Cyberview Company Profile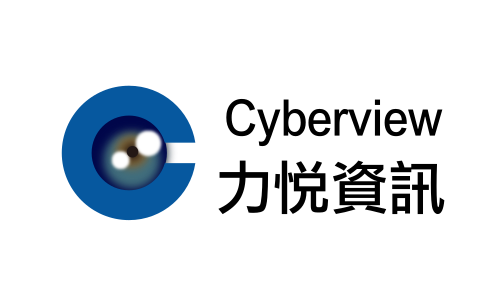 Establishment: February 2005
Cyberview Faith
---
★Honer
Proud of our customers
More than 50% of customers signing long-term (three-year) contract
90% customer retention rate
★Honest
The only policy
The only capital
★Open
Transparent Information (maintenance details, implementation mode)
Happy to pass down the technique and experience, simultaneous learning
Cyberview Major Milestone
2005 Founded
2005 Signed Asia distributor contract with U.S. Meetinghouse
2006 Signed Greater China distributor contract with U.S. CyberArk
2006 Establish a new generation of customer support center
2006 Introduced PMP project management technology in IT management
2007 Launched innovative maintenance service (Room equipment complete repair, IT consultant manager)
2007 Launched its own electronic file protection system (DOFS)
2009 Become a major partner of IBM, ISSDU security products
2010 Join Qservice Group
2011 Storage total sales exceeded 1 Perabyte (1024T)
2012 Contract Taiwan Bank "Central Connection Security Platform" project
2013 Hua Nan Bank, Taiwan Stock Exchange Corporation and other major customers
2014 Fight for EMC Advanced Consolidation T1 partner (two in Taiwan)
2014 StoreOne agency
2016 Votiro agency
2017 RedSocks, XRVision, GamaSec, Ericom

 

agency
Professional Certification
The total seniority for Cyberview three groups in the IT industry is about 70 years
Junior is about two years or more
Senior is about 15 to 20 years
Each group principal engineer is about 10 years
At least one or more professional certification of each person

IBM p Series Administrator
IBM p Series System Support
IBM x Series technical support
Cisco CCNA
Cisco SMB partner
EMC Authentica authorized developer
CyberArk Certified Partner
CyberArk Certified Support Engineer
Zyxel Certified Partner
Microsoft SQL MCP
PMI Project Management Professional
SonicWall System Administrator
Professional Service
---
Service Profile
Technical professional service (Internet, Unix, Windows, Program, PC, Printers, Project Management)
Disaster recovery practical exercise (Disaster Recovery Certification)
Customer service website system with a standardized form
100% spare parts available (Self-provided, Import, Contracted with the original authorized service center)
Grow with customers(Visit, Self-training, Distributor, Orignal)
Product Customization Localization Services
Authentica digital property management system integration (PLM, Document management center)
CyberArk PEA module、System integration plug-in
Make a localized interface for each distributed products
Product Overview
---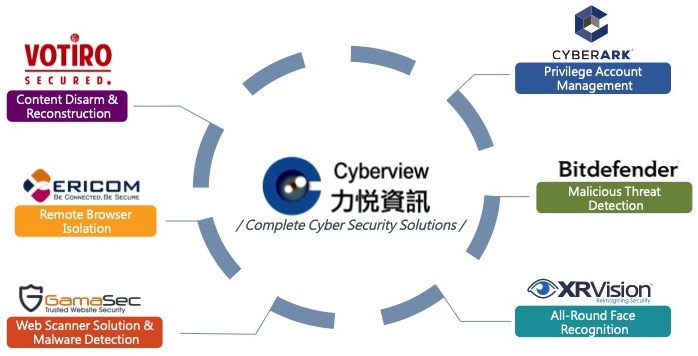 Why Cyberview?
---
Cyberview is a professional VAD(Value Added Distributor). We have the power of "Technical", "Sales" and "Marketing". Become the strongest and most powerful backing of partner and customer.
With many years of experience importing products, we introduce concepts and technologies to the Taiwan market. Let us know about the competitiveness of Taiwan and the R&D strengths of Taiwan's software vendors.
In the future, We will plan to bring Taiwan's best products to the "International Stage" through our accumulated experience and strength in the global IT market. Let MIT not only synonymous with IT hardware, but also will be a professional software brand.